Special Guest Interview with Toshifumi Yoshida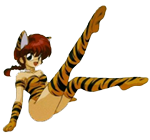 Toshifumi Yoshida, former Viz anime producer and current free-lance translator, played a hige role in Rumic World's success by providing the site with valuable first-hand Takahashi news from Viz. So what does the man himself has to say about Rumic World?
AnimeCons.com has a complete biography of Toshifumi Yoshida
Please introduce yourself.
Toshifumi Yoshida: My name is Toshifumi Yoshida. I've been in the US anime industry for going on two decades. I started as one of the founding members of the group that put together the anime magazine, ANIMAG for a few years.
In 1993 I started at Viz Communications, Inc. (The company later became VIZ, LLC for a while then it became Viz Media) I was hired to work on the English-language version of Ranma ½ and other video titles licensed by Viz. I stayed with the company for 12 years before leaving the company. The last title I worked on before leaving the company was the TV series of Inuyasha.
When and how were you introduced to Rumic World? What were you doing back then?
Toshifumi Yoshida: I was contacted by Harley asking for an interview in January of 2001 when I was still working on Ranma ½. What peaked my interest initially was the fact that the URL was furinkan.com. I saw the work he had put into the site and wanted to help out.
What was/is your impression Rumic World as a fan, and what it is as someone from the industry?
Toshifumi Yoshida: As a fan and as someone in the industry, I think Rumic World is a great resource for fans and I know if I need to find out something obscure about a Rumiko Takahashi title (assuming I couldn't find it in Japanese) I know where to go.
What kind of effect, if any, do you think Rumic World had on the development of Takahashi's series in the U.S.?
Toshifumi Yoshida: I don't know about any effect they site would have had for Takahashi titles in the U.S. Now, I can't speak for other companies, but I think Viz would have released her work in the U.S. in any event.
You've helped Rumic World a lot in the past by giving them first-hand information on Takahashi-related news, why did you choose them, what were you trying to accomplish?
The Acres boys were always very courteous when they asked questions and I always tried to take time to answer them. Eventually, I started to read the fan's questions on their message boards and started sending them answers to questions I saw there.
Care to tell us a bit more about your relationship with Rumic World throughout the years?
Toshifumi Yoshida: Well, I've never met the Acres boys. Every time one of them would show up someplace I could have come to, things don't work out for one reason or another. I think I'd like to have a drink with them one day.
Care to share any interesting stories you've had in relation to Rumic World?
Toshifumi Yoshida: Well, after getting to know the Acres boys I eventually got an account on their message board so I could drop hints and ask questions. I never identified myself on the board; I just lurked mostly and occasionally dropped questions. When I was having a hard time coming up with the English name for Inuyasha's Kongo Souha, I dropped a message on the board asking, "What do you think Viz will call it in English?" I figured if I used anyone's idea, I'd give them credit or at least some free stuff, but in the end, I came up with Adamant Barrage on my own.
Another story is from earlier in the series when I had a lot of lead-time between the Adult Swim airing and the DVD release; I read fan's comments on the episodes that aired. There was one girl who made a valid point about a scene so I went and re-recorded that scene for the DVD release. (I told her about it and she was very happy to hear it.)
Dylan Acres spent a great deal of effort on the "Alone Again, Naturally" project to bring the Maison Ikkoku anime back to the U.S. How much role did Dylan's petition play in the return of the Maison Ikkoku anime? What kind of effect do you think this kind of petitions generally have on publishers?
Toshifumi Yoshida:I can't really say if the petition played any part in bringing back Maison in the U.S. or not. As a supporter, I would like to say yes. But I really can't say. I never wanted to see the series stop. I think I might have signed the petition myself. But whether or not the petition worked or it didn't work, the important part is that the series started up again and was completed.
Any last words to Rumic World?
Toshifumi Yoshida: Keep up the good work. Maybe one day we'll meet face to face and when that happens, the first round on you guys. ^_^