Afterword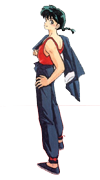 It's finally finished! Special, special thanks to Harley Acres, Dylan Acres and Mason Proulx for all their help in making this possible... But more importantly, sorry for taking so long to get this out! Around September 2006, when the MangaCast Backstage first came out, I received an email from a person by the name of Zara O'Neil, who asked if I could do a feature on Rumic World. At the time I already came across Rumic on several occasions, but never really looked into the site's history. Imagine my surprise when I found out the site, along with its subsites, was over 10 years old!
When I contacted Harley, I said this might take a while... but I never imagined it was going to take this long. Thanks to school, ComiPress, ComiPedia and various other things, months flew by, and the project that officially began in September 2006 took 10 months to finish, yikes! Hopefully this will never happen again.
The Acres brothers and Mason are great webmasters, I have met many web-people in the past, but few are as dedicated to their website and their favorite series as these guys are, you can tell they're truly passionate about what they do. To those interested in the life of a webmaster, I strongly recommend you read Mason's "The History of Tomobiki-cho" article, although written many years ago, the points mentioned in there still apply to how a website is run, and the trials and errors a webmaster go through.
Last but not least, thanks to Toshifumi Yoshida for taking time off from his busy schedule and answering my interview questions. At first I couldn't find his contact information, but I didn't want to ask the Rumic World crew since it was supposed to be a surprise interview for them. In the end I posted a message on Yoshida's LiveJournal, which finally got me in touch with him. :)
Now then, hopefully when I get more time off from CP-related work I can start work on that series-specific fansite I've always wanted to make ^_^;
Shawn
June 23, 2007