The Concept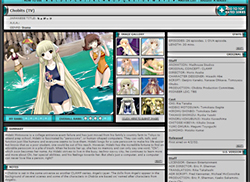 The concept of animeOnline was first conceived by FUNimation CEO Gen Fukunaga, who had always wondered about the lack of anime news and information websites on the Internet. For gaming, there were professional sites like IGN and 1up, and more user-oriented sites like Kotaku and Joystiq. Sure, Anime News Network was as professional as anime news sites come, but there was a need for a "Kotaku" of anime, sites where not only was news reported professionally and accurately, but one where the editors would also be a part of the community instead of some demi-god unreachable by "merely mortal" fans.
So, with that in mind, Gen found Robert Bricken, then editor of Anime Insider, a bi-monthly magazine that was fairly popular (more so after Animerica stopped publishing monthly issues). Rob liked the idea, so the two began working on a new anime website with funding from Gen. At the time, it was decided that animeOnline should have nothing to do with FUNimation in order to retain its editorial independence; in other words, FUNimation would not have the power to influence animeOnline in any way. In the end, a new company called animeOnline Ltd. was formed under Navarre Corporation.
Caution! There has been a popular misconception that animeOnline was owned by FUNimation, which is not true. FUNimation and animeOnline are both owned by Navarre. FUNimation and animeOnline Ltd. Are separate companies, and FUNimation has no editorial control over animeOnline in any way, shape, or form, period. There! Now that that's out of the way, let's continue...
First of all, animeOnline was not the first occupant of the domain animeonline.com. Another anime-related site resided within the domain a few years prior, but it was not well known and died.
Work on the new site began in mid-2006. Not many knew about the project. Rob, the editor-in-chief and creative leader of the new site, was in charge of planning site features as well as hiring a staff.
Behind the scenes, web-mistress and designer Tiffany Bryan was responsible for the look of the site, Toby Davis took care of the programming, and Kelly Bisson was in charge of the resources section, which included information on anime series, links, a glossary of terms, and more. Then there were the news editors: the workaholic news editor Gia Manry, ex-Destructoid/Japanator editor Dale North, and Tokyo editor Bryan Hartzheim. Together, their goals were at least 12 news articles a day. The team covered anime, manga, games, J-pop, J-rock, parody videos, and much more.
In Rob's own words:
"I'd just like to recognize Tiffany Johnson, Toby Davis, Kelly Bisson, Dale North, Bryan Hartzheim and Gia Manry. The people who worked on animeOnline were a truly exceptional group; they uniformly did outstanding work, and gave their all to the site. I've never worked with a more talented group of people."
The Beginning
After around 9 months of development, animeOnline was finally ready to be opened to the public. On February 22nd, animeOnline, Ltd. sent out a press release announcing the launch of the beta version of animeOnline.com. The site was touted as a "new online community and news resource designed to reach the growing entertainment audience interested in anime, manga and Japanese entertainment."
Below is the official press release:
Professional News and Social Networking Site Launches for U.S. Anime Fans

animeOnline.com poised to deliver professional news and social networking for anime, manga and Japanese culture fans

FORT WORTH, Texas, Feb. 22 - animeOnline, Ltd. today announced the launch of the beta version of animeOnline.com, the new online community and news resource designed to reach the growing entertainment audience interested in anime, manga and Japanese entertainment. animeOnline is headed by Rob Bricken, former editor of anime industry publication Anime Insider.

The main feature of animeOnline ( http://www.animeonline.com ) is its accessibility. It is a one-stop shop for entertainment fans to get the latest news and information on their favorite entertainment industry, as well as a place to gather and meet fans who share their same passion. News articles and stories will cover anime, manga, videogames, music and all Japanese culture, be professionally reported, and updated every day. Entertainment offerings on the site will include an uploadable video section, as well as actual anime episodes available for sale on the site.

"Anime is part of a very large entertainment industry in the United States and animeOnline will provide fans with a central location to get professional news, meet other fans and discuss the latest events," says Rob Bricken, editor in chief of animeOnline.com. "We are really excited to launch the beta version and start working with fans to make this the ultimate online destination for anime fans."

When asked how the idea for animeOnline came about, Bricken explains that while he had long seen the need for such a site it was Gen Fukunaga, president and CEO of FUNimation Entertainment, who put things in motion.

"We are part of an industry that covers everything from anime, manga and video games to Japanese pop music," said Fukunaga. "Fans of this entertainment genre and industry flock to the Internet to find news and other people with similar interests. But there is no central point for them to gather and get information. That is where animeOnline comes in."

Bricken was brought in to ensure the site's independence. "Independence is crucial to any news organization, and for animeOnline it is essential for this site to live up to its potential and fill the need for professional news covering the entire industry," explains Fukunaga. "We hope that both fans and businesses will get behind animeOnline and help generate awareness for the entire industry."

Bricken was also selected to lead animeOnline because of his knowledge of the U.S. anime industry and his experience managing the industry publication Anime Insider. As Editor in Chief of animeOnline, he is in charge of the development and direction of the site, as well as the content and functionality. "At its core, this is a news site, an entertainment site and an online community for the multitude of people in the United States who are interested in anime, manga and Japanese entertainment," summarizes Bricken. "We are really looking forward to getting input from fans and working with them to make animeOnline the best experience it can be."

The social networking features of the site are designed specifically with the anime and manga fan in mind. Not only does it allow the creation of personal profile pages, and the ability to send email, add friends, write a blog and the other regular offerings of any online community, but it also provides members a chance to present their five favorite series on their personal pages in a prominent but aesthetic way. Fans can proclaim their favorites and easily see what their friends are fans of as well as all other anime members at a glance.

animeOnline will be attending New York Comic Con and will be holding a panel on Saturday, February 24 at 1:00 ET.

About animeOnline
animeOnline is an independent professional news resource, entertainment destination and online community for anime, manga and Japanese culture fans. The site was established to provide a central location for fans of Japanese entertainment to get professional news, meet other fans and discuss the latest events.

About FUNimation Entertainment
FUNimation(R) Entertainment, a wholly-owned subsidiary of Navarre Corporation (Nasdaq: NAVR), is the leading company for home video sales of Japanese animation in the United States. FUNimation is known for acquiring top-rated anime series from Japan and for developing some of North America's most popular anime series. The company has a proven formula for launching and advancing brands, and manages a full spectrum of rights for most of its brands including broadcasting, licensing, production, internet, and home video sales and distribution.
Many other anime news sites picked up the news. Reactions were mixed, while many were curious of the new social networking experiment and were anxious to see what the site could offer, others commented that the crowd animeOnline was aiming at already had sites like MySpace and LiveJournal. However, with the backing of Navarre, animeOnline's user base grew at a steady pace.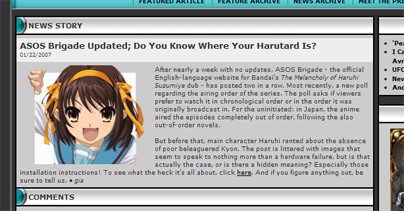 The Content
animeOnline's content can be roughly divided into four categories:
News: animeOnline's news was one of its main attractions. With the hard-working editorial team, animeOnline kept its visitors up to date with most anime-related news. The casual and joking tones used in many reports made the news fun to read. There was also an abundant amount of wacky news, from a life-size Angel Heart mallet to the latest Lucky Star OP parody (although some criticized the site for posting too many "weird" news). Convention reports and weekly articles (interviews, guides, etc.) also helped keep the content fresh.
Community: A social networking site is nothing without its community. Once a user created an account on animeOnline, he or she was immediately presented with their own personal profile page. Registered users could friend each other, send e-mails and instant messages, write blogs, and create an image gallery. For the more ambitious user, there was even an option to create clubs. Oh, and what self-respecting Web 2.0 site would forget about forums?
Media and Entertainment: animeOnline also let its users upload/share videos, music, pictures, and other forms of media (as long as it wasn't illegal). Thanks to its ties with FUNimation, animeOnline also offered episodes of anime to be downloaded for $1.99. Although the deal was open to all anime companies, it seemed most of the downloads were from FUNimation.
Resource: Finally, animeOnline also was a comprehensive encyclopedia of everything...okay, maybe not everything, but there was a fair amount of material in animeOnline's wiki. Aside from the usual stuff like series info and release dates, there was also a glossary full of anime terms and Japanese words, and lists of Internet links to all the companies and some fansites. There were also weekly prizes, usually in the form of free DVDs, for users who contributed the most that week.
Of course, there were people who did not like animeOnline's way of reporting news. Also, many have complained about the fact that animeOnline was only available to North American fans due to "licensing issues."
The End
All was going well for animeOnline. However, on July 20th (6 p.m. EST to be exact), without any advanced notice (aside from a quick announcement from Rob), the site shut down. Even the news editors were not informed of the closure until the Monday immediately prior (July 16th). According to the official notice that appeared on animeOnline.com, the site was simply done with its beta phase and was closed to prepare for the official launch. Later, a report from ICv2 suggested that the shutdown was due to a staff reduction by Navarre.
According to Gen Fukunaga, animeOnline was shut down in order to fix the technical issues experienced by the beta site. Throughout its short life, many problems arouse due to the software (Dzoic Handshakes) that powered the site. So, it was decided that new back-end software would replace the old one.
Whether animeOnline closed due to a staff reduction, its cost, or the software, it was stated that animeOnline would be back in the future. But with no specific date given, and its staff moving on to other jobs, the future of the site looks uncertain.
So what became of the former editorial team of animeOnline? Rob is still working on a contract basis with FUNimation, and occasionally helping out his old friends at Anime Insider. Gia found a new home at theOtaku.com, and also spends more time on her personal blog Giapet.net. Dale went back to his old home Destructoid/Japanator, where he works as an associate editor. Bryan, on the other hand, is chilling in Tokyo and may be moving back to the U.S. soon.