YaoiSuki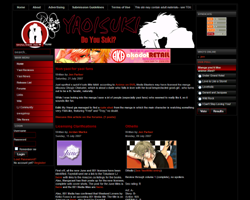 YaoiSuki is a news and information website founded by Jen Parker and Jordan Marks that was dedicated to yaoi, also called BL or Boy's Love, an genre aimed toward women that focuses on love between to male characters.
[The goal of YaoiSuki]...is to write reviews for anything out there that a BL fan might be interested in, but is unsure about picking up. As more and more yaoi is released in the US, it gets harder for the budget-conscious to make decisions! We'll review anything that's marketed at or of interest to BL fans, including global BL, the occasional "slashable" series, etc.
Within a few years, YaoiSuki became the premier information site on yaoi, and its users enjoyed its news, reviews, columns, wiki and various contests. However, on March 1st 2008, YaoiSuki's Jen Parker announced that the site would cease operation, thus ending one of the most successful English yaoi site on web. What kind of site was YaoiSuki? What went on behind the scenes? And what led to the site's demise? Read on to find out!
---