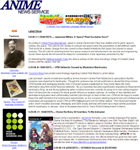 Anime News Service, launched in 1998 by Jonah Morgan, is one of the earliest Web sites dedicated to reporting news on Japanese animation and comics that is still operational today. In ANS' own words:
"Anime News Service went online as the first English language news website dedicated to Japan's "Contents Industries". This term includes: Japanese Animation, Manga (Comics), Characters, Video Games and Popular Culture (Music, Movies, Youth Trends also known collectively as J-POP)."
History
From what the latest anime creators have been up to, to the latest trends in western distribution, to exclusive interviews with industry professionals, ANS has been serving industry news both from home and abroad.
Below is a brief timeline of major events throughout the site's history, as well as their related news excerpts and press releases.
1
998
01/09 - Jonah Morgan, from America, launched ANS at www.animenewsservice.com.
ANS was launched at the domain www.animenewsservice.com, around 6 months prior to ANN or AoD.
Back then, aside from Anime News Network, ANS was one of the few anime news sites that were frequently updated with news and information on the anime industry both in the United States and Japan.
2
000
3/24 - ANS interviews Kia Asamiya thanks to an arrangement made by Fanboy Entertainment.
7/05 - ANS announced at Anime Expo 2000 that it will be making some important announcements regarding the site's future direction, appearance and content. It was later announced that ANS will be partnering up with Digital Manga to create a new webzine/community website called Akadot.
11/03 - ANS and Digital Manga's community/features site Akadot launched.
During Anime Expo 2000, which took place in July of 2000, ANS made an announcement regarding the site's future direction:
"Anime News Service also made some important (and very exciting) announcements at AX regarding the future direction, appearance, and content of our website, a full press release containing info on these revelations should be available for viewing within the week via a link at the top of the homepage."
A few months later, ANS announced its partnership with Los Angeles-based Digital Manga Inc. to be the primary news provider for Digital Manga's new web-magazine / community site www.akadot.com, which was officially launched in November of that year. Below is the full announcement:
Anime News Service Partners With Digital Manga To Expand Services - Provide Content To Akadot.Com

Anime News Service, approaching it's 3rd year of operation as the leading English Language internet destination for Anime (Japanese animation) / Manga (Japanese comics) related news and information, officially announces a partnership with Los Angeles-based Digital Manga Inc. to be the primary news content provider for it's newly created web-magazine / community site www.akadot.com.

Akadot will feature exclusive features and interviews focusing on the Anime / Manga industry in the U.S., Japan, and worldwide, as well as reviews, previews and event reports. Visitors can look forward to an expansion of site features in the near future that will include interactive message boards, polls, and more.

The partnership will dramatically add to the news resources of Anime News Service, founding editor Jonah Morgan offers: "Akadot's Tokyo office will give us a permanent presence in Tokyo, the focal point of the Japanese urban culture / anime / manga / j-pop / videogame industries in the world today." ANS readers can expect exclusive on-sight reports from events in Japan, realtime news as it breaks, as well as interviews with names shaping the state of the art in their respective fields today. Site feature additions are also in the works.

Jonah concludes: "The big winner in this deal is the fan / reader. Anime News Service will continue as it has for the past 3 years, providing the most consistently unique and informative Anime / Manga news on the internet with updates to it's main page many times daily and whenever news breaks." "Together with Digital Manga and Akadot we're hoping to bring a caliber of reporting to the internet that yet to be experienced, get ready."

Contact: Anime News Service via e-mail: newtypex@prodigy.net
Later, as Akadot matured into its own site, ANS and Digital Manga parted ways to pursue their own goals. However, while working with DMP, ANS' Jonah suggested that DMP license and distribute the Japanese anime magazine, Newtype, in the United States. A year later during the 2001 Anime Expo, DMP officially announced that it was working on licensing Newtype.
Note that although Jonah's email address, newtype@charter.net, has nothing to do with this deal. According to Jonah, "I sort of just picked the newtype in my email address newtype@charter.net out of thin air as an interesting word, not as any relation to having an involvement in the project to bring Newtype to the English world or to serve as any sort of excersie in wishful thinking on my part."
2
001
10/15 - Jonah ANSwers column introduced.
In October of 2001, ANS announced a new site feature called Jonah ANSwers, which is a Q&A column hosted by Jonah himself. Unfortunately, the new feature did not last long, and disappeared merely a week after its launch.
06/01 - ANS visits Production I.G.'s studio in Tokyo and toured the facilities. Met with Production I.G. chief Mitsuhia Ishikawa and obtained photos of the Patlabor hand puppets.
Note that ANS actually visited Production I.G. in 2000, below are Jonah's comments on the visit:
An interesting aside to my first Production I.G. visit in 2000, I actually got a complete tour of the entire studio, which is spread out throughout several office buildings. I was allowed to video and photo and ask questions about anything I wanted to.

At the time, I took pictures and did some video in one of the studio where I saw the mini-pat(labor) stick puppets, but was never told or thought to ask what they were for. Of course later on when the mini-pat short animation was announced I knew exactly what I had seen and dug through my files to come up with that image to use with the news item, which as far as I can recall was one of the first ever released associted with the project.

Just recently, video has sprung up as some sort of new and revolutionary vehicle to present anime news in, but even in those days I guess I was thinking way ahead and videoing everything I was coming in contact with a professional grade Sony Mini-DV cam I had bought around the time. I plan on integrating that video content into the site at some point and I've got some really neat stuff!
2
002
02/07 - The 200th member joined ANS' mailing-list.
Five years after its creation, ANS continued to grow. In early 2002, Jonah announced that ANS' mailing list had accumulated its 200th member:
"Site Related: Mailing List Milestone - A 200th Member joined our Anime News Service Mailing List in recent days, the list is fairly active with discussion, news scoops, reviews etc..."
12/21 - ANS celebrates its 5th anniversary through new features and presents for its readers.
At the end of 2002, Jonah and ANS officially celebrated its 5th anniversary by announcing various special features and presents for its readers:
"ANS At Five - Anime Journalism on the internet was founded on January 1, 1998, in 2 weeks we mark the 5th birthday of Anime News Service but our readers are getting all the presents! Stay tuned for our 5th anniversary special articles, coverage, party, contests and much more."
2
003
07/02 - ANS launches its new forum, which runs on phpBB and was hosted by Manga Academy.
In July 2003, ANS' mailing-list has reached over 800 registered members. In the same month, ANS launched its very own forum. The forum, powered by PhpBB and hosted by Manga Academy, saw many discussion topics. However, as time went on, discussions died down, and the forum was eventually removed.
"Anime News Service Forums Live - Discussion returns to ANS! Hi guys, I'm very excited to officially unveil our new forums utilizing the PHPBB system and graciously hosted by the folks at Manga Academy (http://www.mangaacademy.com/). The setup went live yesterday and we've been refinining things since then. Currently, we have 10 solid discussion topics which I'm happy with and room to expand or contract based on feedback from our readers. I want to build this community for you all and offer the same unique spin on the boardside that you've come to expect from ANS siteside. By all means feel free to interact mail me (newtype@charter.net) with your opinions and get involved at the forums via this URL: http://www.mangaacademy.com/forums/index.php?c=3

Jonah Morgan
Anime News Service"
07/03 - ANS mailing-list hits 800 registered members.
12/31 - 04/12 (2004) - Another break in site activity.
2
004
12/07 - Jonah becomes a member of the IMAF competition judge panel.
In December 2004, Jonah was elected to be a member of the IMAF Competition judge panel:
"ANS Editor Joins IMAF Jury
Anime News Service founding editor, Jonah Morgan, has signed on to the official judges panel of the forthcoming first IMAF (International Manga & Anime Festival) (http://www.imaf.co.uk/) competition seeking to draw manga talent worldwide with a total prize fund of $75,000. The deadline for entries in the event was recently moved back to December 31st of this year. Jonah takes his seat on the panel next to other confirmed judges including Kazuo Koike ("Samurai Executioner", "Crying Freeman", "Lone Wolf and Cub") and manga aficionado Pete Waterman."
2
005
01/10 - Manga News Service launched.
In January 2005, Anime News Service announced the launch of Manga News Service, a sister site of ANS that focuses on manga news. The new site was launched to deal with the then-rapidly growing manga industry and the overflow of manga news:
Manga News Service Launched

BIRMINGHAM, January 10, 2005 - Celebrating the start of it's 8th year online, Anime News Service, the internet's leading and first English language anime news site, has announced launch of spinoff content hub, Manga News Service (http://www.manganewsservice.com). Anime News Service defined online anime journalism upon it's launch in 1998 and currently serves thousands of visitors daily (anime fans and industry professionals alike) with the richest news content on the medium from around the world. ANS specializes in exclusive content on new properties and trends directly from Japan and delivers it to English readers before it can be incorporated into the monthly news cycles of most popular magazines on either side of the pacific (or atlantic) on many occasions. Manga News Service will capitalize upon the unrivaled resources and experience of ANS, being solely dedicated to covering the pop Japanese print industries: Manga, Doujinshi and Light Novels. The site's content umbrella will also cover the strongly emerging realm of Korean Comics (Manhwa).

Founding editor, Jonah Morgan comments on the launch: "Manga has seen uprecedented growth in the North American market in recent years, with strong support and enthusiasm coming from both the fans and industry alike. Originally a niche market dominated by smaller companies, major publishing houses have just recently stepped into the market, rolling out their own Manga licensing divisions across the USA, and licensing some of the medium's premium content in Japan. Also, Manga style has also been adopted by all the major American comic giants, it's definitely something that's here to stay. The time for a dedicated news service for Manga has long past. The diversity and exclusivity of the content we deal with around the clock on a daily basis will ensure the site will become a resource few interested in either anime or manga will be able to pass up."

Contact: MangaNewsService.com via e-mail: newtype@charter.net
A year later, Jonah realized that it was better to deal with news in a central location, ANS, and decided to drop MNS. A few years later, the domain manganewsservice.com was picked up by someone else and was turned into a small manga review blog, which has nothing to do with ANS.
04/15 - Jonah moves to Japan
In April 2005, Jonah announced his plans to move to Japan in order to stay in better contact with business partners in Japan:
"4-12-05 (12:30AM EST)---- Updates Notice: ANS Moving To Japan
A whirlwind of activity has enveloped the ANS HQ upon our return from Japan last week. Interest in our work in the corporate sector has summoned us BACK to Tokyo immediately. There we will be meeting with potential business partners and working out strategies that will directly affect the future direction of the news service. Our goal is raising internet contents journalism to the next level and that will entail us physically moving our operations to Tokyo and going 1 to 1 with the industry there directly. Details to follow. During this period updates will be infrequent although they will pick up and all past news filled in over time."
2
006
04/28 - ANS crashed
In April of 2006, ANS temporarily went offline due to hardware failure:
"4-28-06 (12:01AM EDT)---- ANS Server Down Time
The server hard drive that hosts the ANS website and associated files crashed in the last 24 hours. We lost all the data there but have it backed up and we're filtering it in bit by bit as we speak. We apologize for the downtime to those trying to access the news service during this period."
09/04 - ANS gets a temporary new look.
Later that year, ANS temporarily experimented with some new site designs, including colored headings for different news. However, the new designs were short lived, and the site switched back to its old newspaper-like look.
2
007
02/08 - ANS Announces New Subscription-Based Bi-weekly Newsletter
Celebrating its 10th anniversary, ANS announced that it plans to offer its content in the form of a new paid subscription-based "Print Exclusive Newsletter," which will be released on a bi-weekly basis:
"Regarding the website, daily updates will continue, and we'll drop a few exclusive news items here and there to drum up interest in what you should expect to see in the newsletter but our update schedule and volume will be cut back drastically. Our exclusive features will also appear here and there from time to time on the site, as will press releases and more commonly accessible fare."

[...]

The first issue will be dated March 1st, 2007 and begin shipping that week. Regular publication schedule will see new issues release on the 1st and 15th of every month. A 26 issue, 1 year subscription will cost $100 (USD) for those inside the USA and $150 (USD) for those outside the USA. The costs will cover shipping and handling to your mailbox. Back issues will be made available at $5 per copy."
However, the announcement was met with mixed reaction, and after the site experienced a brief downtime, the idea of a paid newsletter was scrapped, and the press release removed.
A Site to be Remembered
Throughout its lifetime, ANS has been a great source of anime and manga news for its fans. Thanks to its news updates multiple times a day, ANS kept its fans coming back for more exclusive content and news from Japan, which wasn't common back then. Despite its quality news, there have been times over the years when ANS would not be updated for a long stretch of time, usually for weeks or even months. However, every time people would start to think that the site was finally gone for good, ANS would spring back to action with a barrage of news from Japan.
In 2007, with 10 years of news reporting experience, ANS is one of the oldest anime news sites on the Internet and continues to provide its readers with news from both the United States and Japan.
Gallery
Behind-the-Scene with Jonah
Name: Jonah Morgan - Principal Editor / Owner / Founder: Anime News Service
Tell us a little about yourself, who are you, what do you do?
Jonah: Wow, so much to tell... As for who I am, I think I'm still figuring that one out. For those in this world who think they know who they are (let alone, think they might know who someone else is) or are born knowing their purpose in life, I have a tremendous amount of respect for them. I'm not so lucky in that regard; I've tried to settle into a mold or two and it just doesn't work for me. For everyone who walks the road of life and finds the point where they pitch their tent and plant their roots, I think I'll be that person who will always be walking, always seeking, always exploring.
How were you introduced to anime? What were you doing before ANS?
Jonah: Definitely sitting in front of my parent's television as a kid in the early 1980s. Even then, the cacophony of audio-visual stimulation enfolded into commercial children's programming was pretty intoxicating for a young, developing mind. I don't even recall what the first anime I saw was. Though, growing up in rural Alabama where we didn't have cable until 1993, there were only five or so terrestrial-wave TV channels we could access and, of those, I recall there were only two that broadcast the bulk of daily cartoons. So I would watch those programming blocks in their entirety usually. I remember "Robotech" pretty clearly; we had a VCR and I rented "Bionoids" at the video store.
What I do recall is that I quickly distinguished the Japanese animation style from American cartoons from Disney or Don Bluth before I even knew what Japan was. I would take note that at the end of even shows like "Thundercats" that there were strange names in the production credits I wasn't used to hearing in my daily life or at school. That interested me.
I got a Nintendo Entertainment System in 1986 and that was probably my first conscious introduction to Japanese character culture. Strategy guides and game manuals and guidebooks were always decked out with manga-style illustrations. You'd beat a game and there would be more of those of funny names in the ending credits. Sooner or later I wanted to find out more on the culture that was creating this stuff. But bear in mind, this was all material that was more or less easily accessible in the mainstream.
My reintroduction to anime as the growing subculture of dubbed and subtitled video cassette releases came in '93. A friend of mine had a copy of the first volume of "Ranma ½" subtitled from Viz and a number of the early Eclipse comic releases (Mai The Psychic Girl) and even Masamune Shirow's Intron Deput 1 artbook. At that time I was a huge American comics fan, I rode that wave at around the time Image Comics was first founded. I was getting burnt out on American comics and the diversity of anime and manga offered that new collective hobby I was looking to fill the void.
What are some websites you visit everyday? Share your bookmark with us!
Jonah: www.google.com, probably the best starting point for researching anything else you may be interested in.
What's the future for Jonah?
Jonah: Constantly flowing, moving into new directions.
When did ANS first start, what was the goal for creating it? Were there any difficulties you encountered?
Jonah: It was Christmas-time 1997, I learned some basic HTML and wanted to make my first Web site, but I wanted to actually do something with it in a service capacity that people could use that wasn't being done elsewhere. I had become a hardcore anime and manga fan.
Back in those days, any new English news in the genres followed a monthly cycle on the whole and were to be found in one or two print publications exclusively and I realized there was news out there in the online world that was circulating and either beating out the existing print cycle or plain being ignored by the magazines. So I wanted to create a central point where you could go and read this stuff, an online newswire that could serve as a clearinghouse for new English-language information on anime and manga based on a "live" 24/7 news cycle.
The major difficulty for me was that I was responsible for producing and creating just about every aspect of the project. But I'm one of those "if you want it done right, you gotta do it yourself"-type people and I think I work best when it's just me; I can develop a vision or direction of research I want to go in and execute it very quickly.
What were the early years of ANS like?
Jonah: Pretty slow at first, sometimes a whole week would go by and there would be no news if you can believe that.
Were there any other contributors other than you?
Jonah: There have been several over the years. Throughout though, Daniel Zelter deserves mega kudos. His mind and interests are just in such a different place than mine, but because of that, the news and views he brings to the table is stuff I would never usually arrive at on my own terms but at the same time entirely relevant.
How is ANS run? Is it pure HTML, or is the site running on software?
Jonah: Pure HTML edited in notepad, very simple stuff.
Care to mention any major obstacles or accomplishments in the 10 years of ANS' existence?
Jonah: Learning Japanese has been a challenge at least. On accomplishments, I'm amazed at the sheer impact we have had on the industry and how many of my ideas and information are still in play out there. I'm very proud to say that ANS has served as the first place one could read about many, many huge news items in English. Be it the first rumors surrounding the new Evangelion films or Gedo Senki, we've got an inside track that the industry has not been able to ignore. Routinely, I'll have to take a hiatus from updating the site to address other ventures. I'm still genuinely surprised that I can always sit down at the computer coming off a two-month break, dial up a few sources and instantly start publishing scoops that have gone ignored elsewhere. That tells me ANS is providing a unique service and meeting the original goals I set forth 10 years ago.
What's ANS's relationship with Newtype?
Jonah: When I was working with Digital Manga around 2000, I pitched the idea of licensing and localizing the content of Newtype magazine in English. I foresaw that if it could be done, it would become the dominant print publication in the genre throughout North America and possibly the entire Anglo-sphere.
Could you explain what's the deal with ANS and DMP?
Jonah: I started talking with Hikaru of DMP in 1999; they were forming a content magazine-style start-up site (akadot) and were interested in the kind of fresh anime news content I was creating. We formed a several-year partnership in that regard. I'm very grateful to Hikaru to this day for him introducing me to so many new concepts and I'm very proud to see where he's taken his company.
For almost a year ANS had a sister site called Manga News Service, want to tell us a little about that?
Jonah: A few years back, I was dealing with so much content that I thought I'd try and split it up and devote one site to anime news and one to manga news. It was an interesting experiment because I learned that the central location approach was most effective and dropped MNS.
I remember a while ago ANS began a print/mailing service, how is that going?
Jonah: I've explored the possibility of launching my own print newsletter/magazine several times in the past and the conclusion I've come to through research and putting feelers out is PRINT IS DEAD. On a wider scale, from a business standpoint, I think there's maybe room for one (and only one) profitable magazine dealing with anime/manga in North America. But what I've learned is the average fan is so tech savvy these days and that there is very little a print magazine is going to be able to offer content-wise that you won't be able to source online.
What's the future for ANS?
Jonah: Continuing to provide anime and manga news and information that you will be able to read nowhere else.
Afterword
Another Backstage feature! This one was actually in the works for a long time...this was supposed to come out after the MangaCast feature (before the Rumic World feature)! But thanks to various life issues, as well as the delay in communication between Jonah and myself...at one point I thought it was never going to see the light of day!
The first time I heard about ANS was around 2003. Back then ANN was my main source of anime-related news. I was in Borders reading magazine, and happened to pick up an issue of Anime Insider. In the magazine there was a special section that introduced some anime websites, and ANS was one of them. The short article (if you can even call it an article) gave ANS some pretty high praise, and so I decided to check the site out. One of the most amazing thing about ANS is that, even though it's been around for 10 years, the site still looks the same as it did 10 years ago (aside from minimal style changes here and there)...all HTML, no Javascript, no database, no CSS...a living fossil! (which can be both a good and bad thing...)
For this particular feature, I decided to use a simple design that, well, has everything on one page, something that wouldn't be possible with huge, content-packed feature like Rumic World's or Anipike's. Also, having a simple design kind of go along with ANS' simplistic design in a way, no? It was also a chance for me to try out the Web 2.0 "big font, lots of whitespace" theme.
Special thanks to Jonah for replying to all my questions despite his busy schedule. Also, big kudos to our proofreader Lorena, couldn't have done it without all your help!
And that's all, see you at the next Backstage feature, which hopefully will be out sometime before April (that's quite a long time, actually).